86th Annual Craftsmen's Fair Runs All Week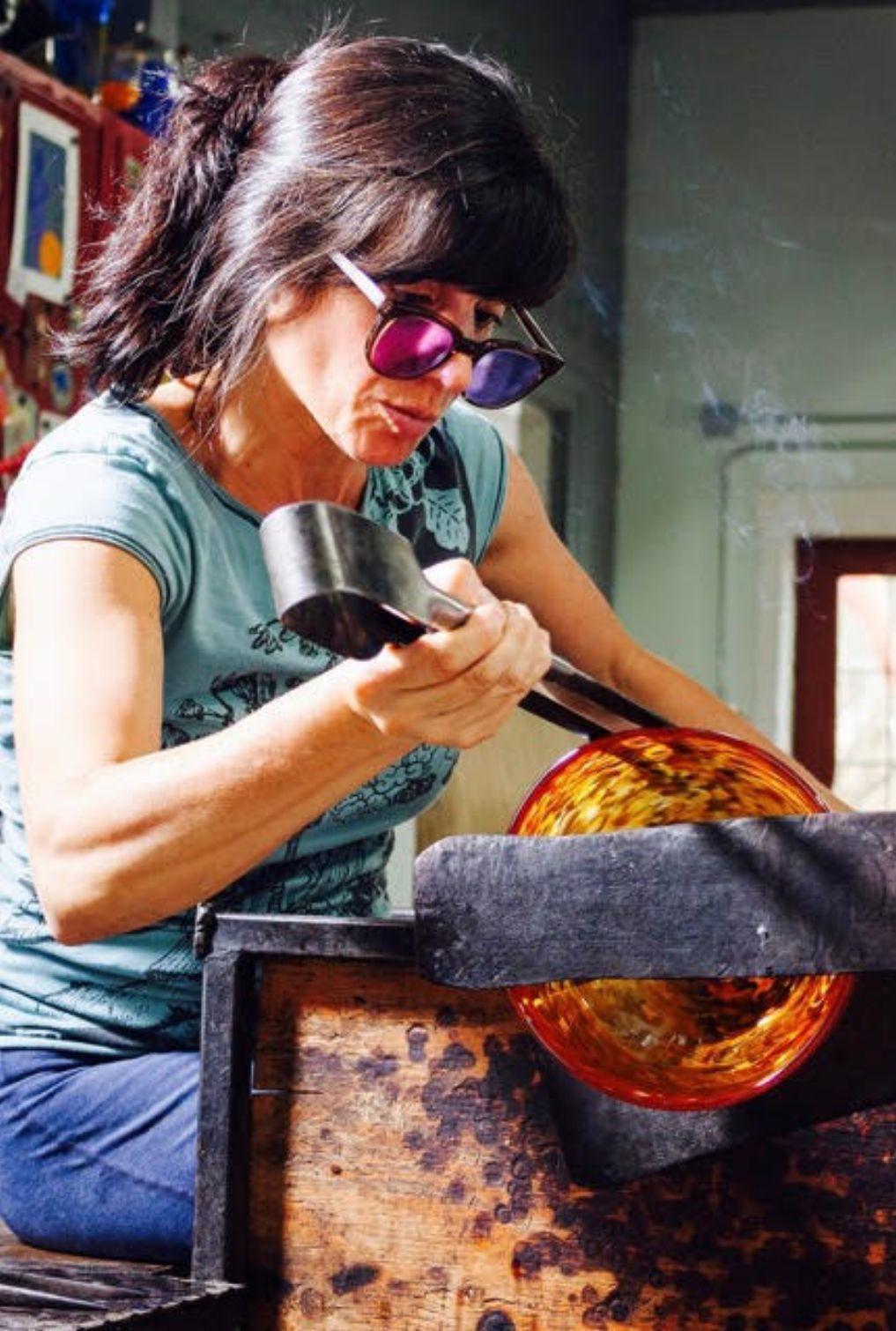 BY EMILY REILY
Even if visitors simply window-shop during this week's League of New Hampshire Craftsmen's Fair, viewing work by 350 local artisans can be its own experience.
"This is an effort for us to support our members. This is their big event and opportunity to sell their work that they work on year-round, in some cases. But more importantly, we're supporting and trying to keep the craft relevant," says League of New Hampshire Craftsmen Executive Director Miriam Carter.
Besides shopping, visitors can take classes, view craft demonstrations or try various styles of food.
"We've got a potter who is creating 5-foot, 7-foot pieces of big pottery vessels. So he turns them on a wheel and then builds them gradually. We have glassblowing on site. We have every craft imaginable that people can learn about by watching or participating in," says Carter.
About 24,000 people are expected to attend over the nine-day fair at Mount Sunapee Resort. It's the oldest-running outdoor fair in the U.S. A portion of the 750 juried members of the League will display their art under 28 tents — everything from jewelry to pottery to fiber arts to basket-making to woodworking and more.
Carter also hopes this year's artisanal food offerings will encourage people to spend the day.
"We've got amazing Thai food, amazing Southwestern fare, brick-oven pizzas made on the property and some wonderful smoothies, as well as ice cream. So we really tried to answer the call of our guests saying, 'Stay here. Enjoy your entire day here," says Carter.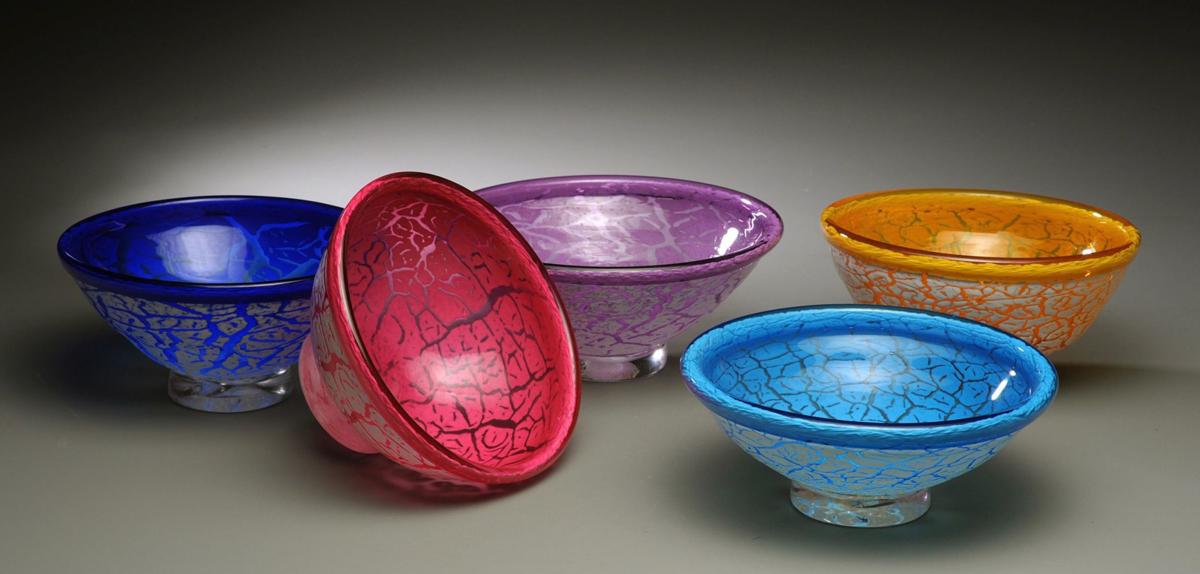 MORE THAN MARKETING
Lucy Golden of Franconia, a jewelry maker who has been a League member for 30 years, says the fair is the perfect place to browse as well as buy.
"It's much more than a craft fair where people go and buy things," she said. "It's really an experience. There are demonstrations that go on all the time. There are classes that go on that you can sign up for, and kids' classes also."
Golden says the fair showcases the best crafts made in New Hampshire.
"I have friends (who) say things like, 'Well, you know, I don't really need anything.' And I'm like 'then don't buy anything.' I mean, please do. But at the same time, it's not just a marketing event. It's really people coming out with their best foot forward," Golden says.
A naturalist and environmentalist, Golden makes wearable art like earrings themed around ocean creatures, woodland animals and birds, or local floral and fauna.
"I do a lot of mushrooms because I love mushrooms. I'm a forager too, and I do a lot of butterflies. I actually raise certain silk moths, native silk moths, and give them to schools and do Audubon talks," says Golden.
She also creates "bioluminescent" jewelry using imported powders, which she mixes with her media to give her earrings a special glow-in-the-dark quality.
"It glows in different colors," Golden says.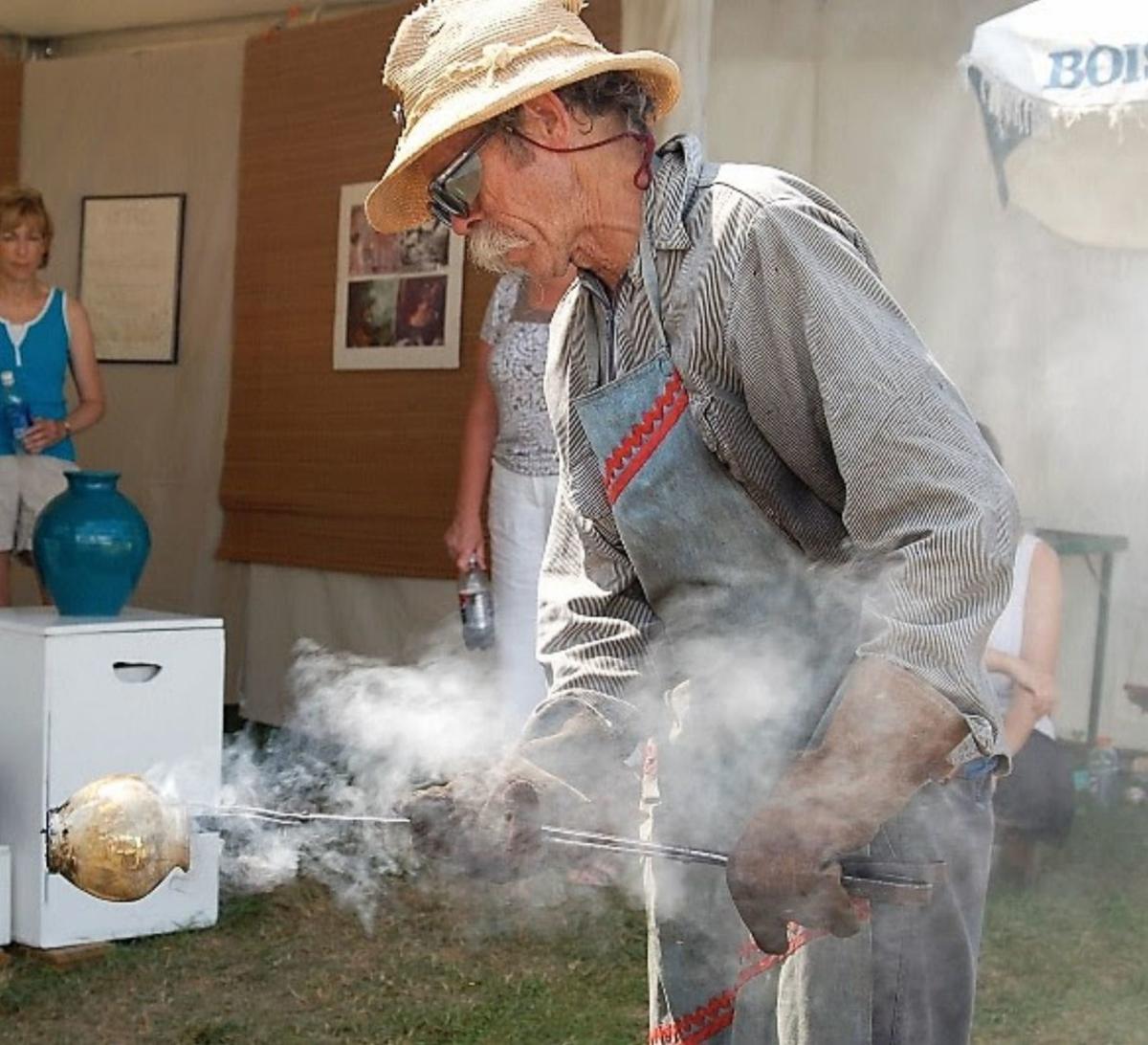 'VERY AWESOME COMMUNITY'
Juried member and glassblower Jordana Korsen of Keene says the League is "a very awesome community of people."
"I love the arts and craft scene in this state. I like being part of something that has some sort of regulation. I really respect that," she says.
Korsen, who's taking part in her 21st fair, says over the years, she's figured out what people are seeking.
"You get new customers but you also get the same customers. I know those customers; they're gonna say to me, 'What's new?"
So Korsen plans to bring trusted favorites as well as new items.
"I have a bunch of really nice new bowl designs; vases designed with silver leaves. We made a bunch of cats and chickens, and those are totally new designs. I think people will find a lot to pick from," Korsen says.
MAKING PEOPLE SMILE
Art Anderson, of Marlow, a juried member for nine years, will hold hands-on demonstrations that he says kids love.
Anderson, who creates wooden folk art, lets kids trace a pattern on wood, which he'll then cut out on his scroll saw. The kids can then take the pieces home to paint. He says that experience alone can get children interested in crafts.
"I had a little girl last year that was so excited about doing it. When she got done and ready to go, her mother says, 'maybe you can put that in my pocket book.' She says 'no, I want to hold onto it forever.' So experiences like that make it really worthwhile," says Anderson.
Anderson, a self-taught artist and woodworker, says the feedback he gets is enough for him.
"I enjoy the response to my work. It makes me feel good about doing things that make people smile and make them happy," Anderson says.
Anderson also makes Halloween and Christmas-themed wooden pieces that are suspended on strings, what he calls "carousels."
"They have motion to them. I have a piece with witches on brooms flying around an old dead tree with pumpkins and jack-o-lanterns and bats and owls and all sorts of black cats. And that's an interesting piece," he says.
"I just enjoy it so much. I enjoy what I do," says Anderson.
Golden says the fair highlights the pride New Hampshire residents take in their work.
"It's a lot more than a craft fair. It makes you proud to be from New Hampshire, and I'm certainly proud to be a part of the fair," said Golden.
Anderson says the fair is the perfect place to get a first-hand look at what New Hampshire has to offer.
"It's just a wonderful place to get together with other craftspeople, and also to meet many people who appreciate what we're doing," says Anderson.
"After spending the time (on a piece), it's really satisfying to accomplish something like that and then see how people respond to it. And that's very enjoyable," says Anderson.
Korsen likes the fact that talent drives the League, and not necessarily money.
"Not just anyone with a checkbook can do it, but rather anyone that is suitable to be part of the League that has the craftsmanship," Korsen says.
"We want people to come and have the experience of crafts," Carter says. "We have price points that go from $20 on up. It's amazing. It's not all high-end goods that are not to be afforded. They're very reasonable, beautiful, handmade things in a time where I think the handmade object matters more than ever."