Plymouth State University launches Chinese exchange program
By BEA LEWIS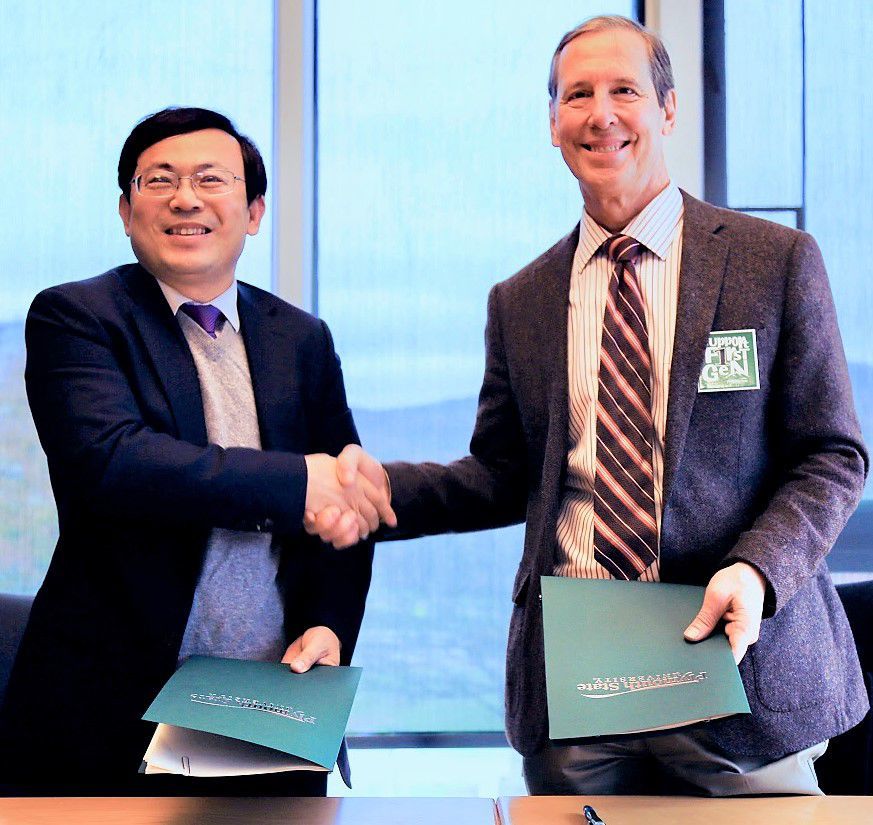 Li Xueshan, Vice President, Henan Normal University shakes hands with Donald L. Birx, Ph.D., President, Plymouth State University after signing an agreement that will bring students from HNU in Xinxiang City, in the northern Henan Province of China to study at PSU as part of an international exchange program. The new partnership was finalized during a recent visit to Plymouth State University by a delegation from HNU.
PLYMOUTH — Students from a Chinese university will soon be pursuing their studies in New Hampshire under a recently finalized international exchange program with Plymouth State University.
PSU has launched a new program that will bring students from Henan Normal University (HNU) in Xinxiang City, in the north Henan Province of China, to study at the New Hampshire campus. Plymouth State President Donald Brix explained the partnership was finalized during a recent visit to Plymouth by a delegation from HNU who met with PSU officials and faculty and toured the campus.
"The new international exchange program with Henan Normal University will not only bring students with a strong desire to learn and success to PSU's campus, it will also bring students with different life experiences," said Brix.
"Ensuring that our student body reflects a variety of cultures, experiences and points of view is extremely important to preparing our students to success in a globalized world. We look forward to welcoming the first HNU students to campus to experience Panther life while we continue to collaborate to expand opportunities for all of our students."
Beginning next fall, qualified HNU students will have the opportunity to study at PSU for one or two semesters. These students will take PSU courses with select bachelor's degree programs as part of their HNU degree course of study. Students will live on campus and experience campus life both in and out of the classroom and have opportunities to explore the region.
"Our students will greatly benefit from studying at Plymouth State University, with its rigorous course work and excellent faculty," said Li Xueshan, vice president, Henan Normal University. "We hope to host PSU students and faculty in the future to further our cultural exchange and deepen our relationship."
During the recent two-day visit, members of the HNU delegation met with Plymouth State deans, staff and professors to discuss developing a future "2 + 2" Articulation and Transfer Agreement, which will allow students who complete two years at HNU to transfer to PSU to complete two years of course work and earn a bachelor's degree from PSU. The delegation met with faculty from early childhood education, English, social work, and business programs.
While on campus, the delegation visited places that are unique to PSU, including the Museum of the White Mountains and the Child Development Center. The delegation also met with Chinese students who are currently studying at PSU to learn about their experiences on campus.
PSU now offers more than 50 undergraduate majors and 60 minors, with offerings in the arts, business, education, humanities, and the natural and social sciences, and in excess of 60 graduate degrees and certification programs.